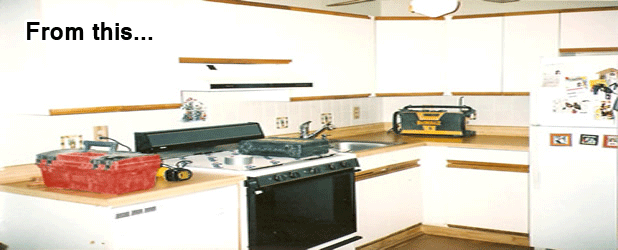 Our kitchen remodeling process is simple!
It is not too often that you can do a major change to your home in only a few days. In just 3-5 Days, we can transform your kitchen into a showplace.
1). DESIGN
One of our expert kitchen design professionals will visit your home. They will work with you designing your new dream kitchen. During the visit, you will choose your new door style, color, countertop selection, and hardware option. At the conclusion, you will be given a guaranteed investment estimate.
2). RE-MEASURE
We firmly believe in doing the job right, the first time. You will be visited by our Project Manager to verify your choices and remeasure your kitchen to provide quality assurance and expert installation.
3). ORDERING
At this point, all of your choices and measurements are processed and sent to the manufacturing facility. Once the new kitchen selections are manufactured, they will be sent to our main office and you will contacted to schedule an installation date.
4). INSTALLATION
On average, our installations take approximately 3 days. Depending on the complexity of your designs and needs, the process could take a little longer.